Envirochill have the ability to design, manufacture, install and maintain all refrigeration systems to suit most commercial and light industrial situations.
Specialising in design/build coolstore projects Envirochill can offer coolrooms, freezer rooms and any type of insulated structure.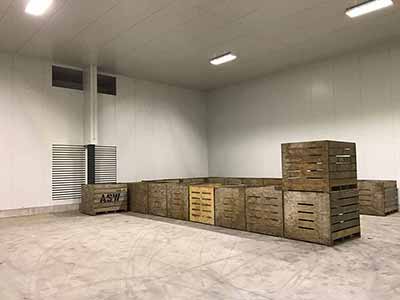 Envirochill specialises in the manufacture and supply of Post-Harvest cooling systems, custom built to suit the client's individual requirements.
Custom built fumigation systems supplied in the form of a 20 or 40 foot container, complete with full ventilation and / or recapture system, and temperature control if required.
We offer complete data monitoring and recording systems for temperature, pressure, power usage and anything else the client requires with an easy to use windows based software package.
We are constantly looking at ways to improve energy efficiency  and design , passing on the benefits to our clients using the latest EC and variable speed drive technology alongside the ability to provide natural refrigerant based plants.
Envirochill Refrigeration Limited provides the best possible service and equipment for its clients and their budgets. We manufacture here in New Zealand, so we can design and build Refrigeration Systems to the individual requirements of our clients. Energy efficiency and being environmentally friendly is a priority at Envirochill and this is reflected in the technology incorporated in our Envirochill Refrigeration packages.